All the techy stuff you need
to make your customers happy
With awesome upgrades every month
01
Create custom scheduling rules
Create as many rules as you need  to represent your weekly timetable.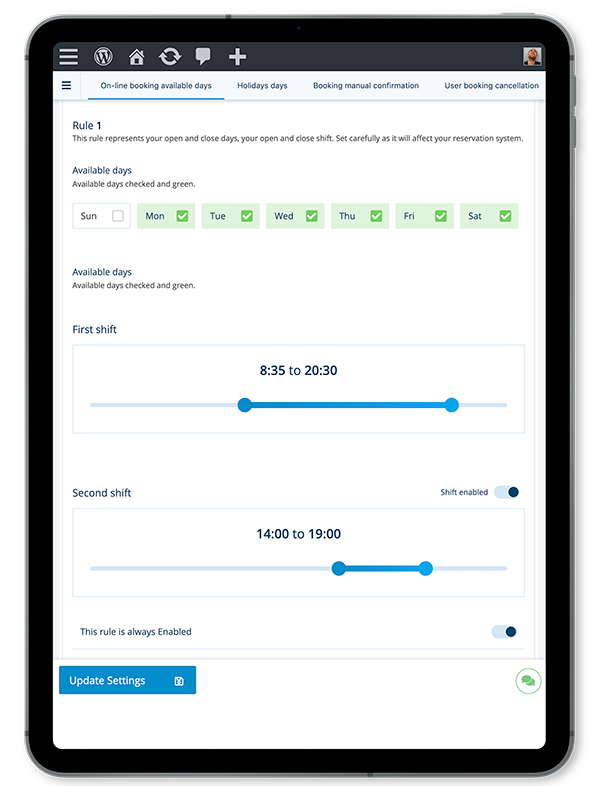 Have a reservations calendar
This is your agenda main dashboard where you have the whole picture of your reservations.
Create, edit and cancel reservations
Lock out unavailable hours
Get the crucial information for each date of the calendar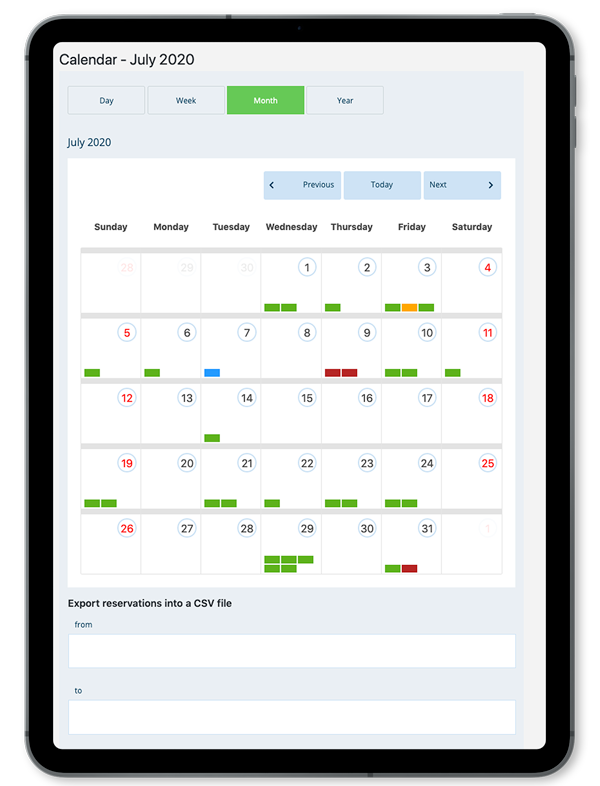 02
03
Services
Create as much services as you need and manage them according to your real business needs.
Set the number of customers to be attended at the same time
Create so called "secondary" services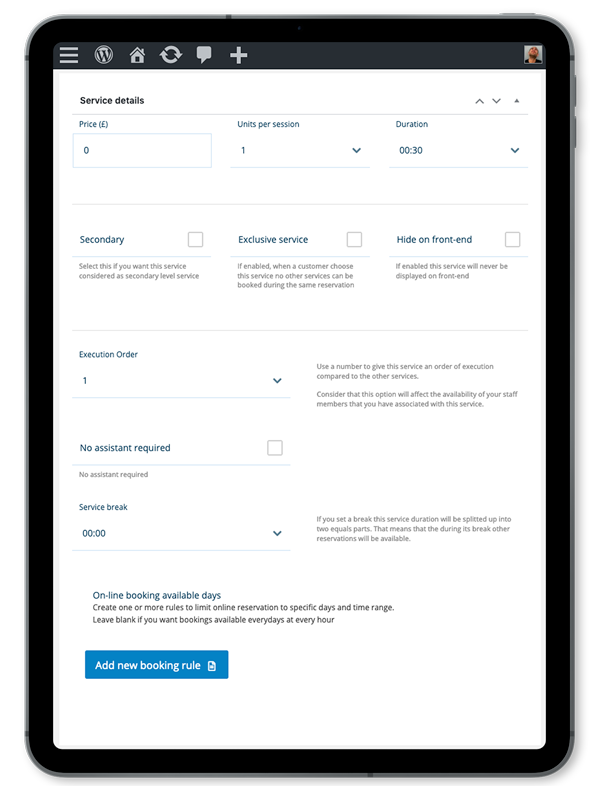 Assistants
Create as many assistants as you need and manage them accordingly.
Synch their Google Calendar account
Special option for classes and tuititions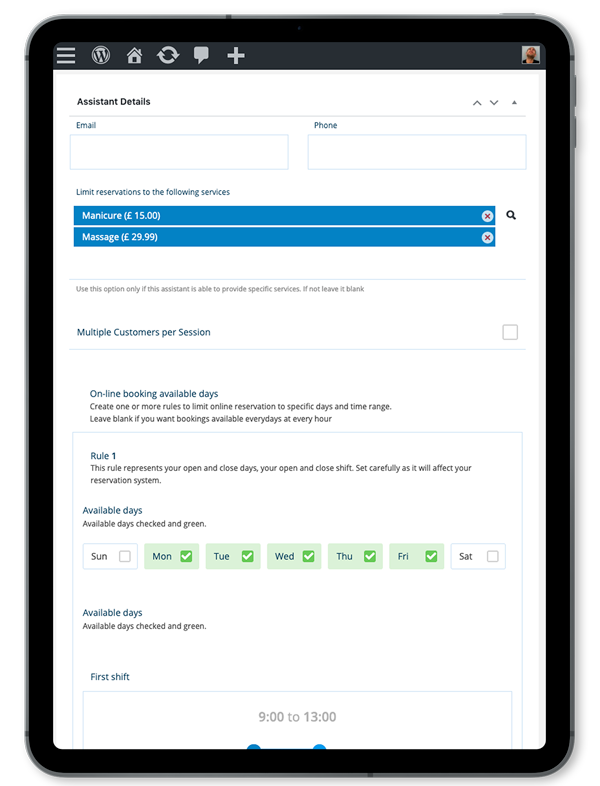 04
05
Send email and sms notifications, reminders..
A complete set of tool to keep you, your customers and your assistants informed on their upcoming reservations.
Sms and email notifications for new booking
Sms and email booking reminders
Sms and email to send automatic folllow-up messages
Sms and email to automatically invite your customers to leave a feedback
Customers database
Keep your customers data to track their reservations history and provide a better service for them.
Personal data GDPR compliance ready
06
07
Create coupons code or discounts
Create unlimited discounts and coupon codes and keep your customers happy.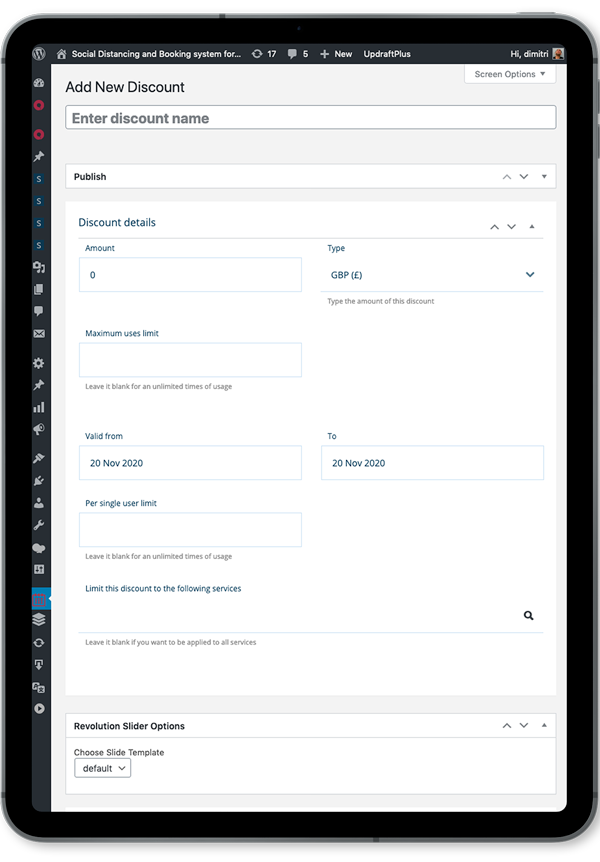 Customers account page
Give your customers a personal account page where they can control over their upcoming and past reservations.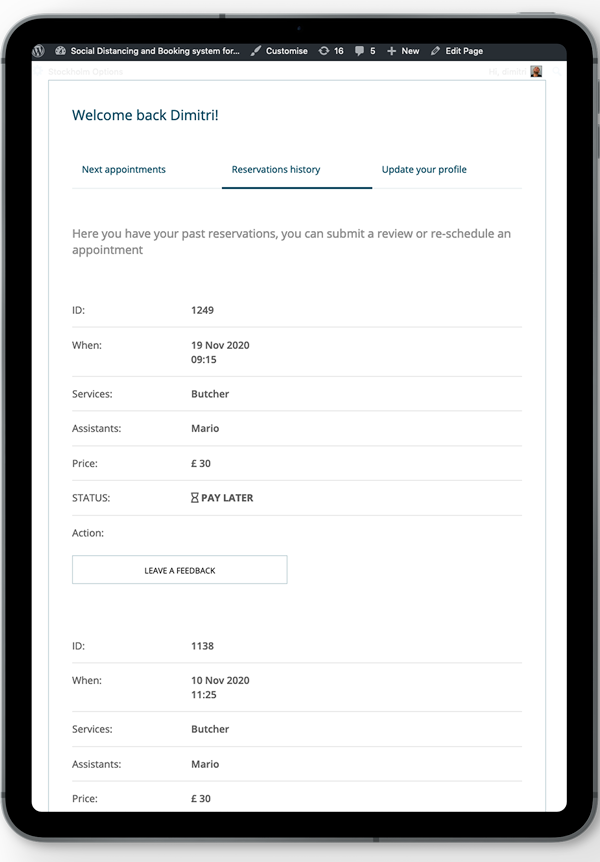 08
09
Customize the booking form
Keep your booking form look and feel consistent with the design of your website and empower your brand identity.
Choose among three sizes for the booking form
Create your own colors combinations
Process online payments
Accept on-line payments as a whole payment or as a partial deposit with Stripe or PayPal or with one of the available payments platforms integration add-ons.
Require full payment or a deposit
Automatic cancellation of unpaid reservations
We have more than twenty different payments platforms integration add-ons
10
11
Reports
Take control over your reservations and revenues trends with our detailed reports.
Reservations and revenue report
Front-end shortcodes
Don't waste time creating your services or assistants catalogue pages. Use one of our short-codes.
Upcoming reservations by assistant
12
13
Collect customers feedback
Let your customers leave a feedback about their experience and learn from their suggestions.
Collect feedback on your website
Collect feedback trough Google My Business reviews
Collect feedback trough Facebook reviews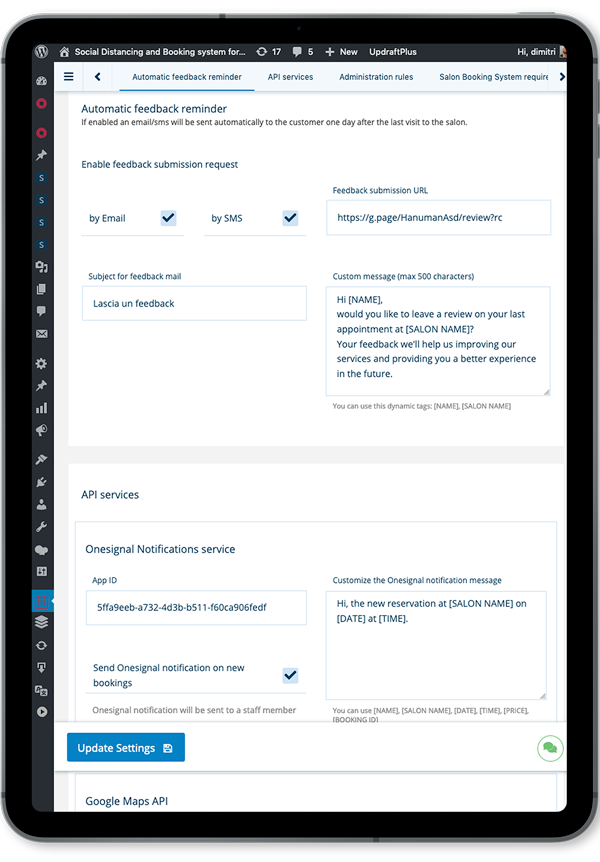 Have a mobile app to manage bookings
We have an official mobile app available on App Store and Play Store optimized for mobile and tabled devices designed for salon manager and staff member in order control and manage reservations.
Send and SMS or call to customer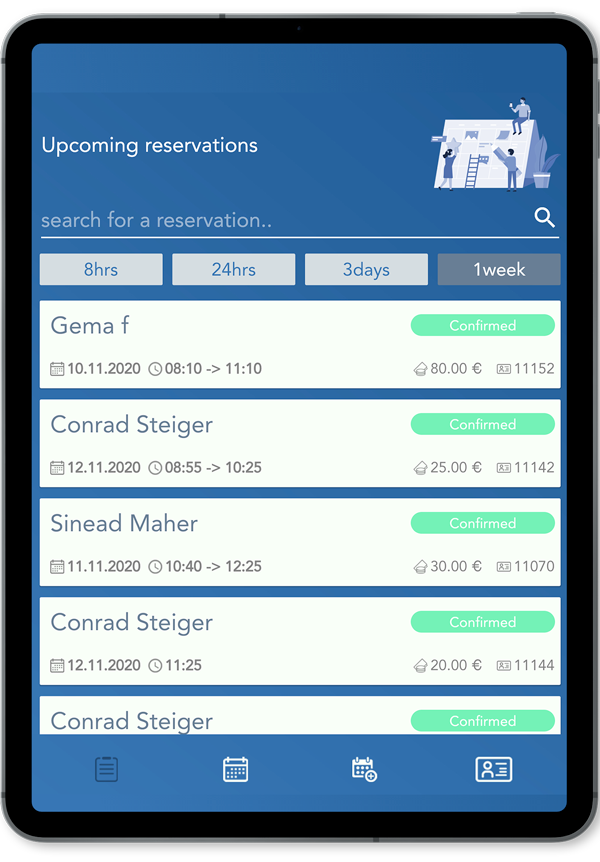 14
15
Use API for custom integrations
Salon Booking System is equipped with a set of API that allows you to integrate it with your favourite apps.
Google Calendar two ways synchronization
SALON BOOKING SYSTEM
IS MULTI-LANGUAGE READY
WPML COMPATIBLE
OUR PLUGIN IS READY TO BE TRASLATED
INTO YOUR LANGUAGE
Using WordPress.org translation platform
Using Transifex
Using a plugin such as WPML or Loco Translate
Editing your .po file with Poedit software
AT THE MOMENT THE LANGUAGES
AVAILABLE ARE:
English
Finnish
Italian
Polish
Russian
Romanian
French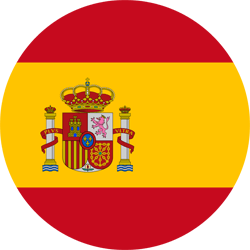 Spanish