In this article, I'll explain how the plugin for WordPress Salon Booking System can be effectively used as an appointments booking system for Tattoo Artists and to better manage the relationship with your customers.
Here are the topics I will cover:
How Salon Booking System can be used as an appointment booking system for Tattoo Artists
How to use its features to manage the relationship with the studio's clients
Real customer cases, Tattoo Artists studios, who use Salon Booking System
Practical example of plugin setup for a four-components Tattoo Artists studio
Salon Booking System integration with third party applications
Conclusions
Useful links
1 – How Salon Booking System can be used as an appointments booking system for Tattoo Artists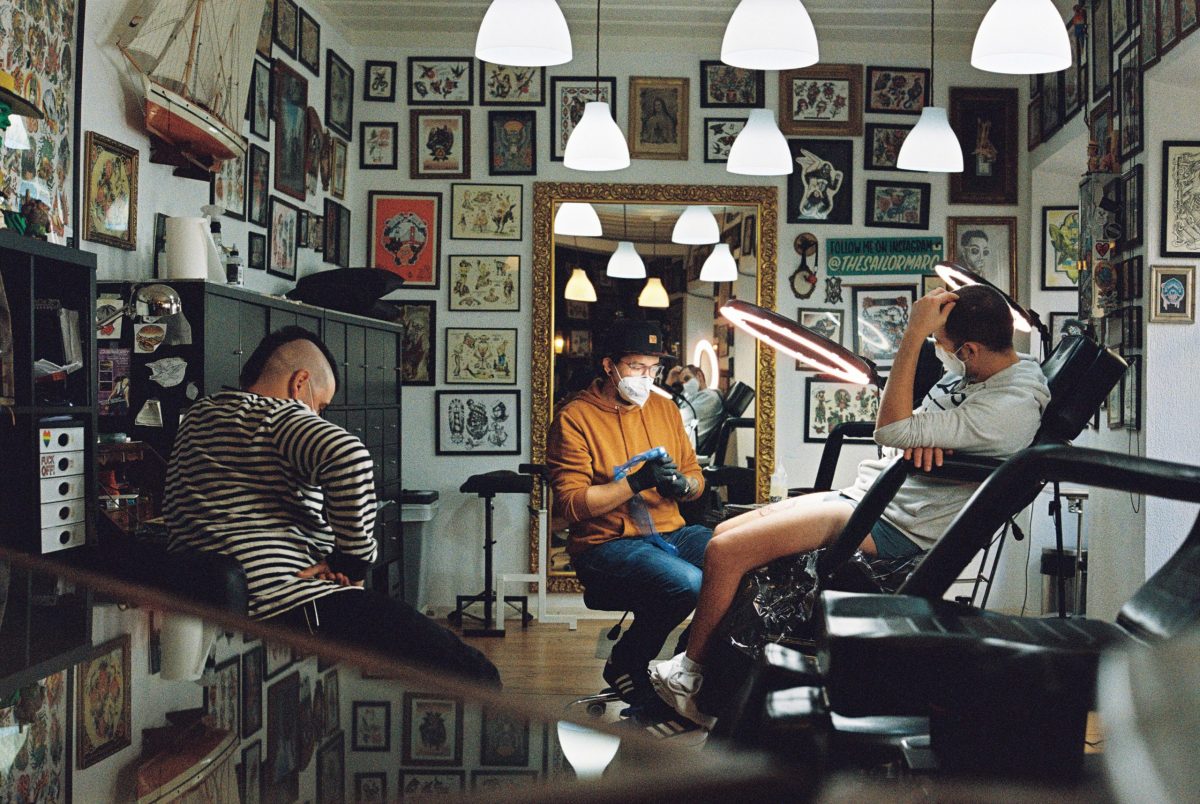 A Tattoo Artist's studio can benefit from a booking system such as the one offered by Salon Booking System, as it has been specially designed to manage the bookings of professionals who provide services by appointment.
Unlike many other solutions on the market, our plugin has focused its functionality on a specific type of appointment: appointments that run out on the same day and that concern a single person who needs to go to the professional venue on a set date and time.
Alone or in a team, Salon Booking System can be the right tool for you case.
It must be said that our booking system is designed both for professionals who work alone and for those who have a staff of collaborators, as could be the case of a Tattoo Artists's studio.
When more professionals work in the studio, and they each follow a different weekly calendar, our booking system is able to set different availability rules for each of the operators in the studio.
Even if the tattoo studio makes use of professionals with different specializations, with our booking system, it is possible to define which services each operator is able to offer and therefore limit the choice of operators based on the service requested.
A booking management system of this type means that the studio can optimize its working hours in order to receive the greatest number of bookings and thus saturate its weekly hours without leaving holes in its calendar.
Tattoo studios can also offer a high value-added service to their customers, avoiding unnecessary waiting, keeping their appointments under control and having a tool to interface easily with the members of the studio.
2- How to take advantage of plugin's features to manage the relationship with the clients of the studio 
A booking system such as the one offered by Salon Booking System, in addition to representing a simple and effective solution for an automated management of one's own agenda, can prove to be particularly useful for managing relationships with the studio's customers.
Think of the possibility of collecting the opinions of your customers through an automated email through which the customer is invited to leave their opinion on the services received.
Or the possibility of sending an automated email after X days from the last appointment.
Collect useful information on the habits of your customers: how many times they book on average in a month, on which days, the value of bookings made over time.
Create discounts for specific customers who have reached a certain number of bookings, like a points system that rewards the most loyal and long-term customers.
For this reason, Salon Booking System can be considered as a CRM, or rather a system for managing relations with its customers.
3- Some real cases of clients using Salon Booking System
Below are some real examples of Tattoo Artists who have chosen Salon Booking System to manage their appointments through their website.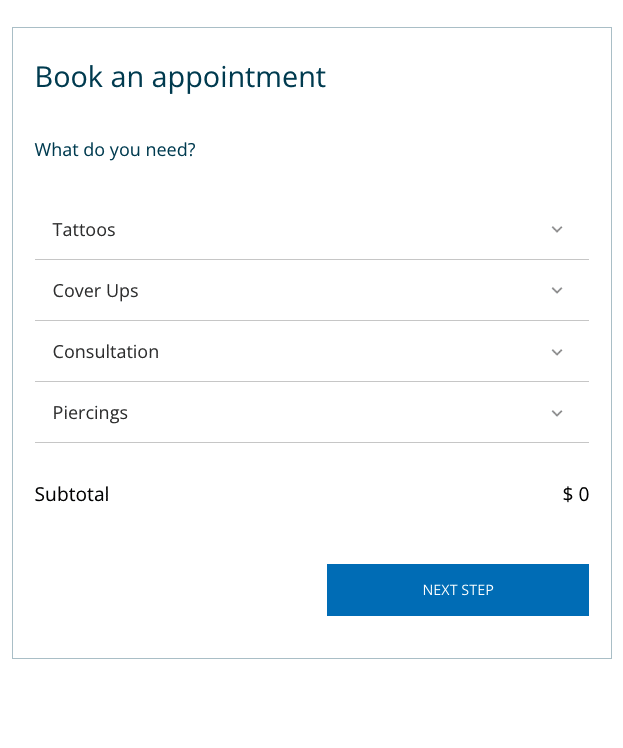 As you can see, this tattoo artist has organized his services into categories, and for each category he has created diversified services based on their duration.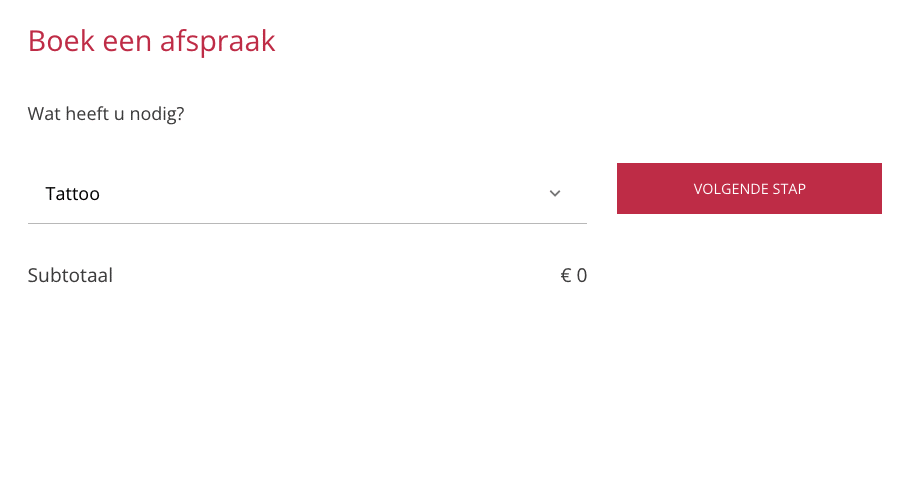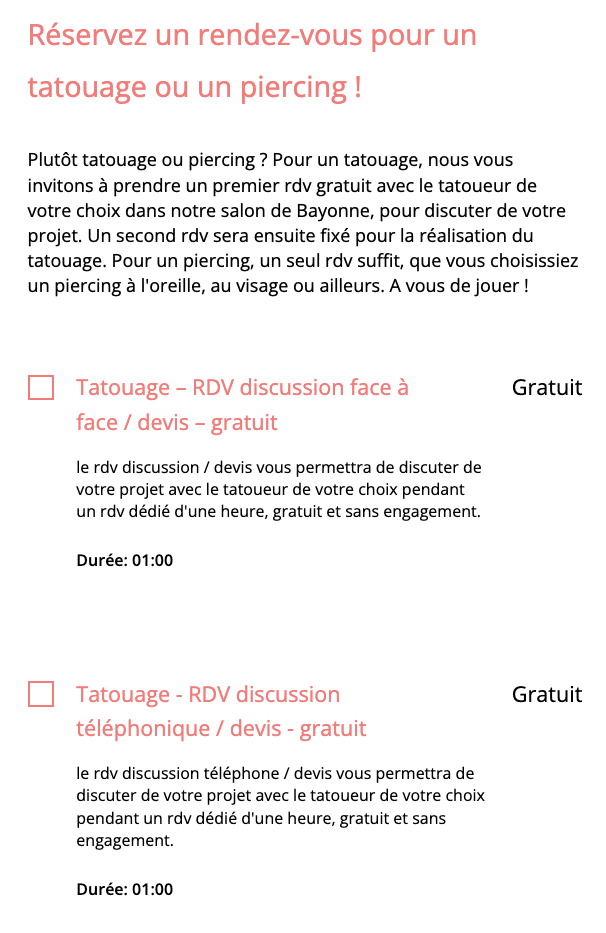 4- Practical example of setup for a four-component tattoo studio
The following example has the sole purpose of describing a hypothetical case of application of our plug-in for reservations.
Customers for single session

For a four-person tattoo studio, this option should be set to "4", as the studio is able to receive up to a maximum of four appointments on the same day and at the same time.
It doesn't matter if the operators offer different services and work on different days and times. These aspects will be handled at a later time.
Average session duration

This option must be set thinking about the desired hourly fraction for the purpose of choosing the slot by the customers during the booking phase. The suggestion is to think of the service with the shortest duration and select the hourly fraction closest to this duration. Example: if the shortest of the services offered lasts 15 minutes. We will then use this interval to set the "average session duration" option.
Days available for reservations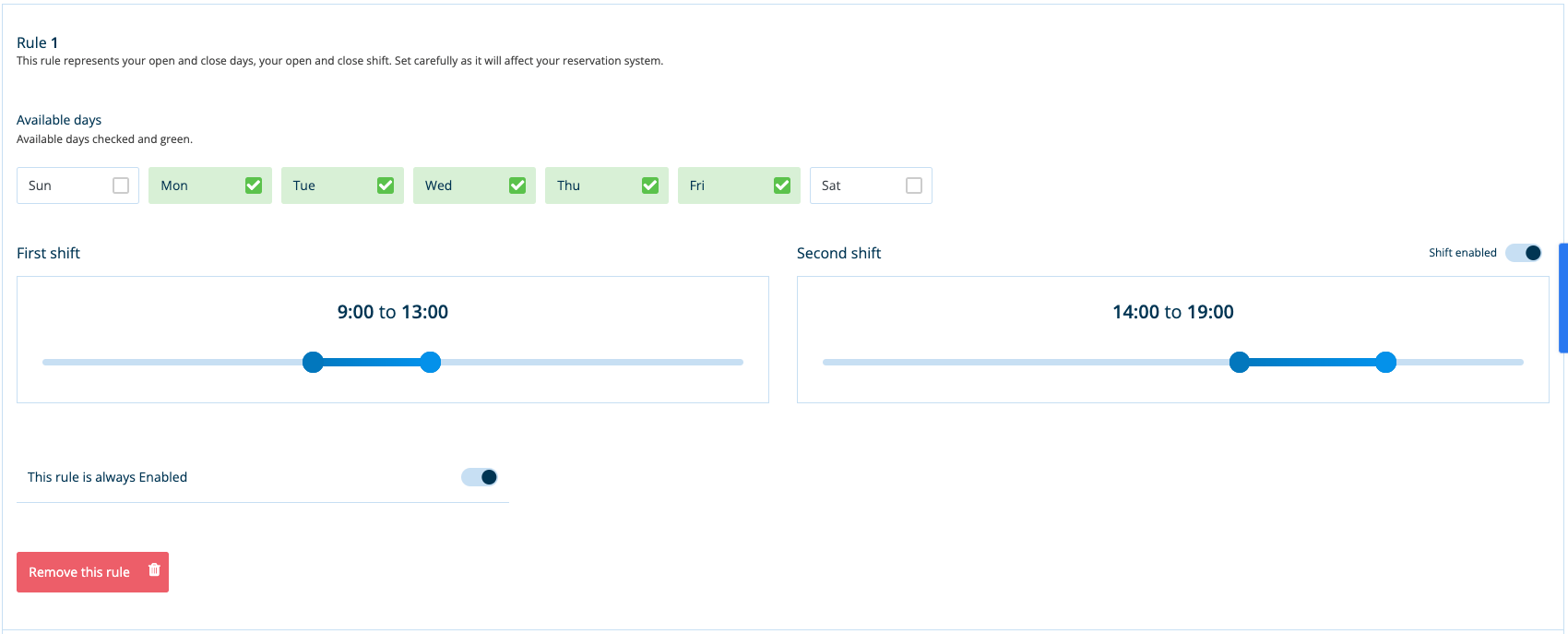 From here, we can set the working hours of our tattoo studio. The system gives the possibility to set one or more rules in order to accurately represent the weekly schedule of our studio.
Creation of the services offered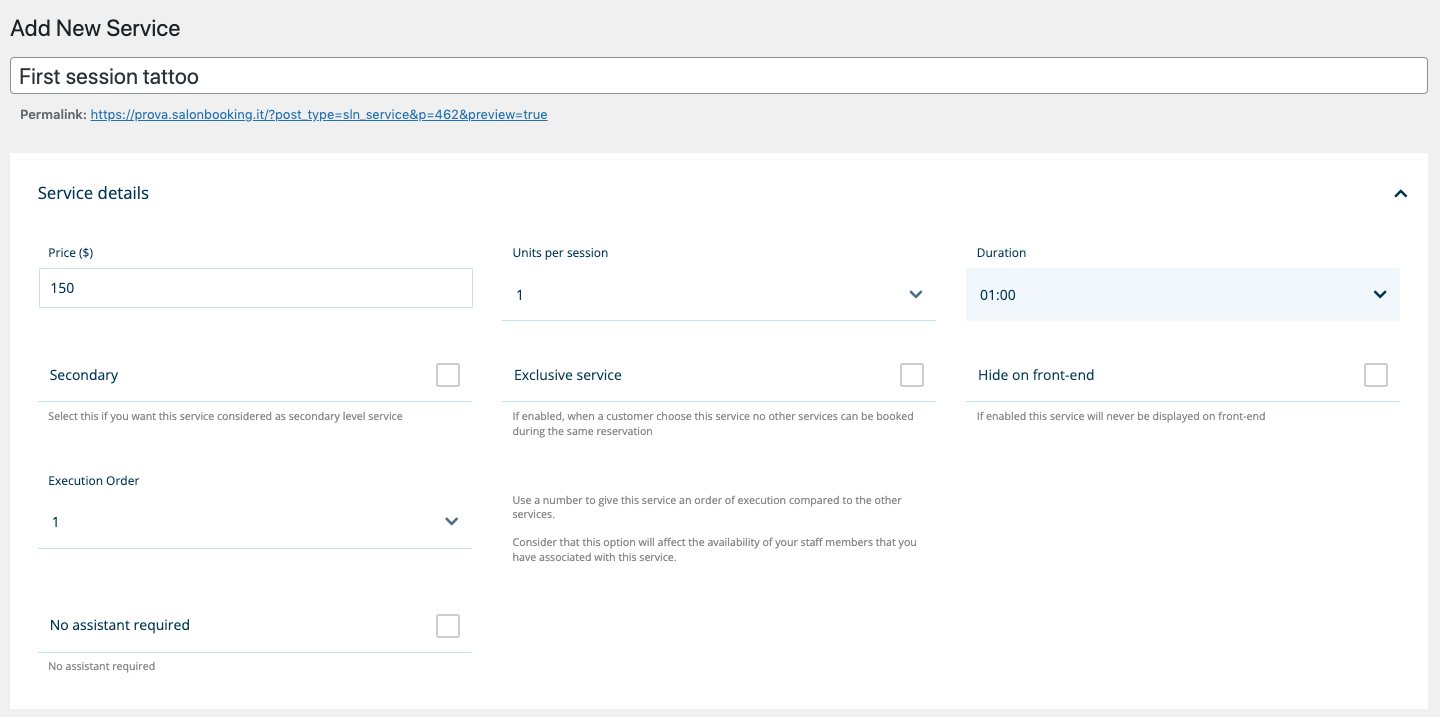 From the "Services" section we will enter all the services offered by the studio and for each service we will set the following basic information:
first name
duration
price
description
Units per session (how many customers can book this service at the same time)
Creation of assistants

From the "Assistants" section, we will enter all the professionals who make up the studio's staff.
For each "Assistant" we will enter this basic information:
first name
email address
telephone number
If an "Assistant" is able to provide only some services offered by the firm, then we will specify it in the appropriate field.
As we have already mentioned, it is possible to set a weekly timetable also at the level of the single assistant. This feature will come in very handy in case an assistant does not follow the exact weekly schedule of the study.
Synchronization of Salon Booking System to Google Calendar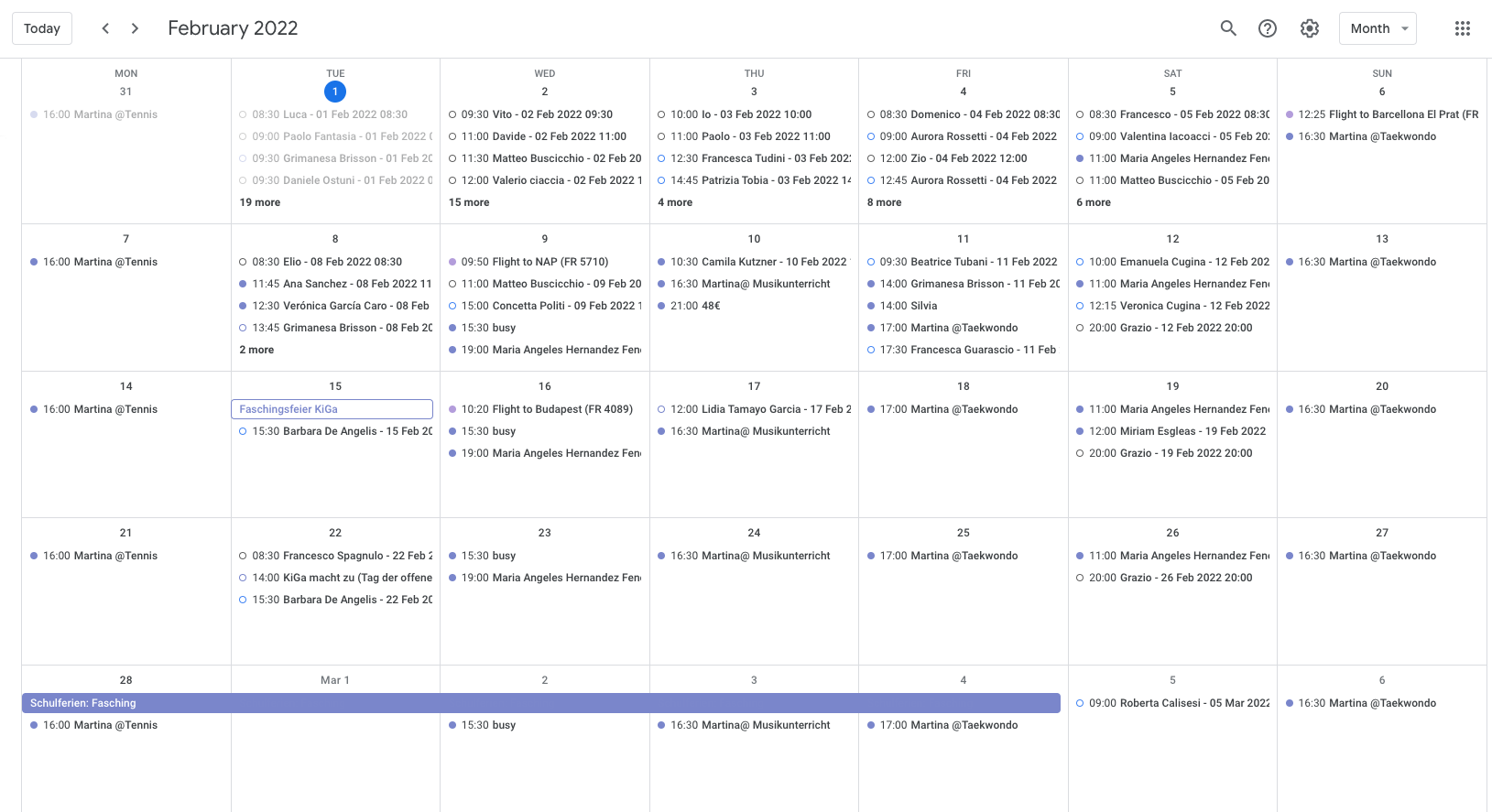 Salon Booking System offers the possibility to synchronize the appointments created on the studio website with a calendar created on Google Calendar.
In this way, whenever an appointment is created on the website, it is automatically published on Google Calendar.
Salon Booking System also offers the possibility to add reservations directly to Google Calendar, to then be automatically pushed into the website.
For this functionality, please refer to this link:  https://salonbookingsystem.helpscoutdocs.com/article/127-google-calendar-two-ways-synch
Synchronization of reservations with the calendar of individual assistants.
Another interesting feature that could be very useful in the case of a tattoo studio is that which allows you to automatically publish a reservation on the individual assistant's Google Calendar. To take advantage of this feature, refer to this link: https://salonbookingsystem.helpscoutdocs.com/article/97-notify-reservations-on-assistants-google-calendar
5- Integration of Salon Booking System with third party applications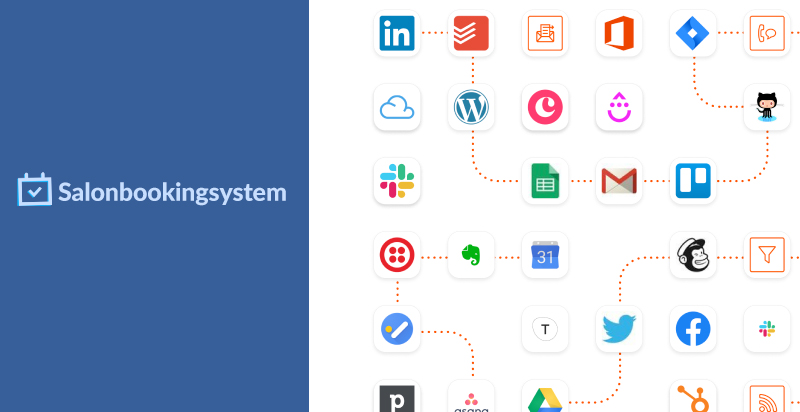 Another feature of our booking system that could make it particularly attractive to a tattoo studio is the ability to interact with third-party applications via the zapier.com platform.
zapier.com is a free platform that allows different applications to interact with each other.
For example, you could connect Salon Booking System to an online billing system, in the cloud, present on zapier.com or connect it to a CRM as a HubSpot.
In fact, the possibilities are endless, it all depends on what are the actual needs of the studio and how these can be easily managed through one or more applications on zapier.com
6- Conclusions
In conclusion, we can say that a booking system such as Salon Booking System can effectively improve the activity of a Tattoo Artist's studio both as regards the aspect relating to the acquisition and management of online reservations and therefore to the organization of the work of individual professionals.
It can also be a valid tool for managing relations with its customers, who would be guaranteed a professional service, in line with what are modern market standards.
Since our booking system can also be interfaced with various third-party platforms, it offers the flexibility necessary to meet the specific needs of a single studio that needs to have the booking system communicate with another application.
7- Useful links