When people think about relaxation and well-deserved time off, spas are some of the first locations that come to mind. However, few things are as stressful as needing to phone a business to reserve a booking. Even if you have amazing employees operating the phones, an online booking system for spas is preferred by most users.
With an online booking system, customers can make reservations 24/7. They can see what dates are available and organize their schedules without spending time on the phone with someone. Moreover, you'll be able to plan your spa's calendar much more efficiently.
In this article, we'll dig deeper into why you need an online booking system for your spa. Let's get to it!
1. Better Planning for Your Spa
One of the challenges of running a business that relies primarily on bookings is that you'll want to schedule appointments as far ahead of time as possible. If you run a spa, you need to ensure that you have enough therapists, aestheticians, and technicians available. That can be hard to do if you use a phone booking system.
Most customers don't phone for reservations far ahead of time. That means constantly re-arranging your spa's schedule only a few days in advance. Moreover, you'll need to contact customers in case their bookings get moved for any reason.
An online system simplifies this entire process. Customers can book as far ahead of time as you let them, and they can modify reservations without needing to call anyone.
The best part is an online booking system for spas can help you predict revenue for your business. If you're solidly booked for a period, you'll have a pretty good idea of how much money will come into the business, and you can even pre-charge for bookings.
2. Oversee All Reservations Using a Centralized Calendar
A lot of spas offer online, phone, and in-person bookings. That means customers can book future appointments when they visit, by calling, or even by writing to you via social media.
Modern online booking systems for spas enable both you and customers to add appointments to a central calendar. For example, if you receive an in-person booking, you can simply log in to your online system dashboard and add the reservation manually: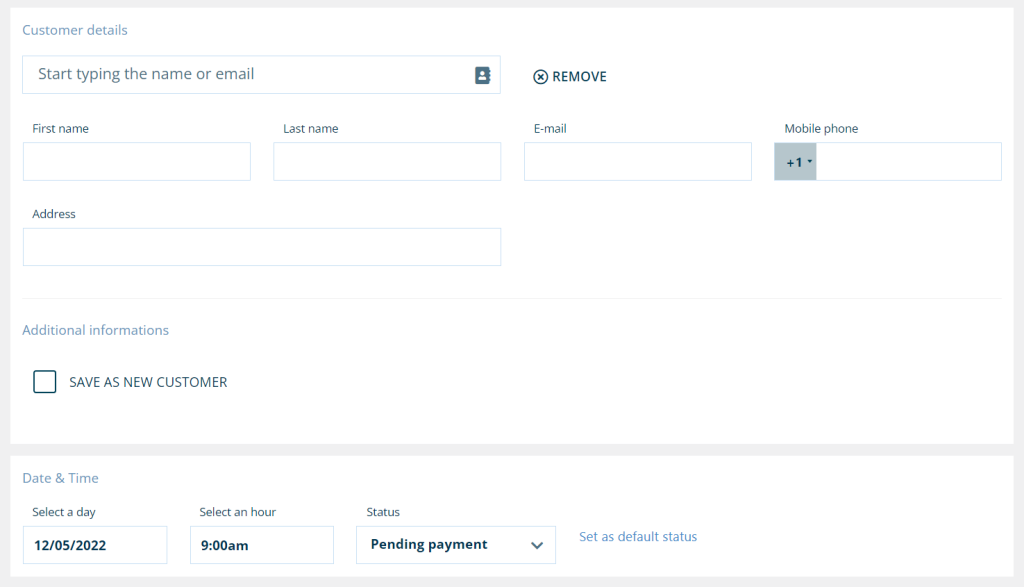 This system offers the best of both worlds. You can cater to online-savvy users who like to make reservations without needing to interact with anyone. Plus, you'll have more time to assist spa clients who prefer a more personal touch when making bookings.
3. Collect the Information You Need Using Custom Forms
An online booking system can help streamline your spa's operations. However, if you want the best possible results, you'll need to use an online booking system designed with spas in mind. At the very least, the system should allow you to create custom booking forms.
The beauty of custom booking forms is that you can choose what information to collect or which features to enable, depending on the system you use.
For example, Salon Booking System enables you to set up manual confirmation for bookings, configure a window for appointment cancellations, and more: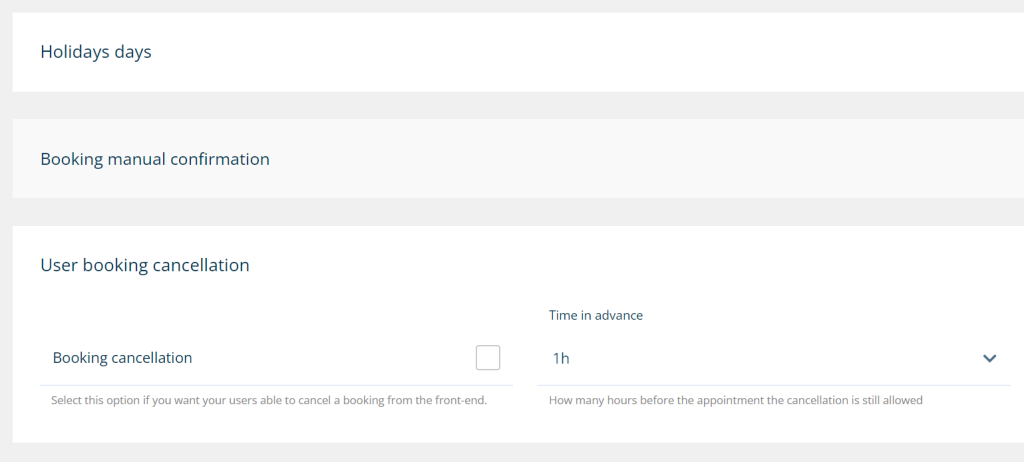 The more flexible the booking system is, the more you'll be able to customize it to your spa's unique needs. That means you'll need to spend less time overseeing bookings and can spend more time on improving the business.
4. Send Booking Reminders Automatically
Cancellations and no-shows are massive issues for any business that relies on bookings. A certain percentage of clients fail to attend their bookings, either for personal problems or because they forgot about them.
There's nothing you can do about unforeseen circumstances in customers' lives. What you can do to lower no-shows is send booking reminders to each client before their appointments. This reminder can be particularly useful for customers who book appointments well ahead of time since they might forget about them: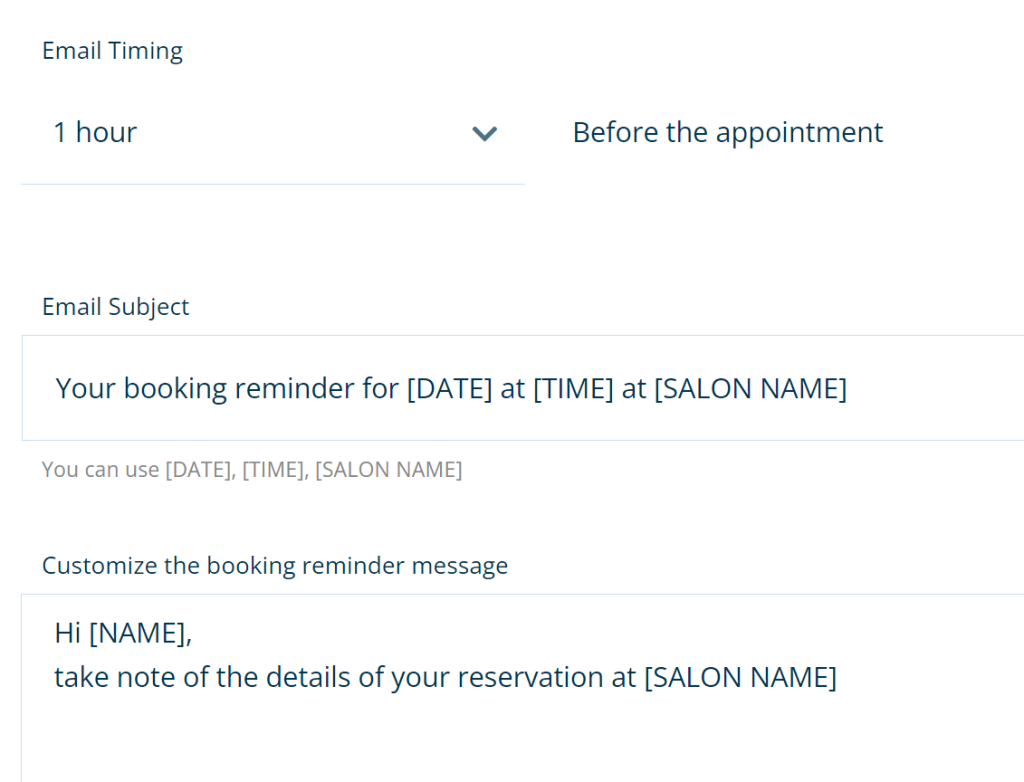 One great tactic is to send customers booking reminders before the cancellation or rescheduling period expires. That way, if a client can't attend a booking, they'll get the chance to move it to another date without problems. Moreover, that frees up the original appointment time for last-minute bookings.
5. Collect Booking Payments
Depending on which online booking system for spas you use, you may be able to collect payments. You can use this feature to have customers pre-pay for part of their services or to collect a "booking" fee: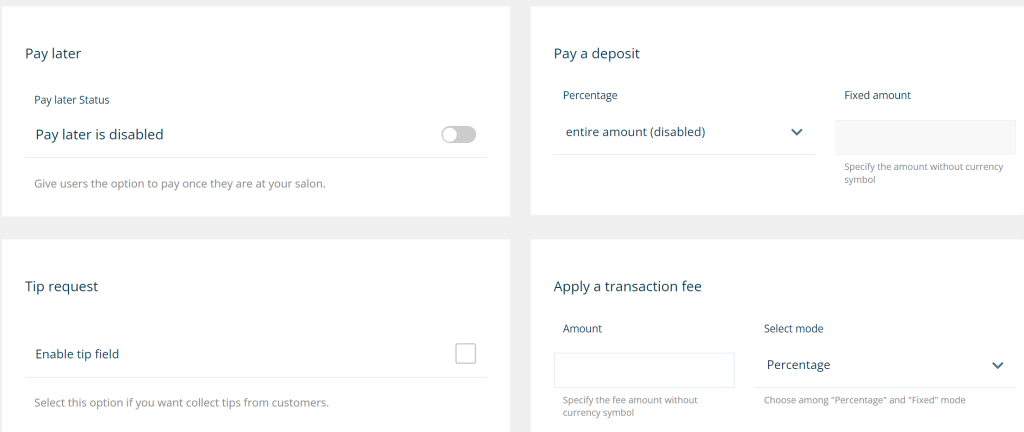 The goal of a booking fee is to cover your business if the customer cancels the appointment at the last minute or doesn't show up. You can also waive the fee if clients cancel well ahead of time, helping you weed out false bookings from real ones.
Salon Booking System offers highly-flexible payment configuration options. You can configure the plugin to collect deposits from users, enable them to pre-tip their aestheticians, and automatically cancel unpaid reservations.
Conclusion
If you want your spa to succeed, you absolutely need an online booking system. The same rule applies to most service businesses, such as beauticians and doctor's offices. An online booking system lets you run your business more efficiently and frees up time for more critical tasks, such as managing the store.
Let's recap the five key reasons why you should be using an online system for spas:
Plan your spa operations more efficiently.
Oversee all reservations using a centralized calendar.
Collect the information you need using custom forms.
Send booking reminders automatically.
Collect booking payments.
Do you have any questions about implementing an online booking system for your spa? Let's talk about them in the comments section below!