Hi!
finally we are ready for the 3.0 version of Salon booking plugin.
Yes 3.0, you understood well.
This version will bring a lot of new features and improvements.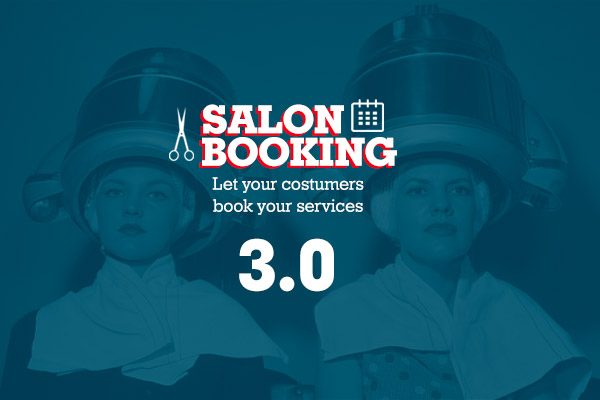 So let's go in depth:
– Brand new "High end" booking method
This third booking method gives you the control over the availability of each service and his associated assistant during a precise time/slot. In order to do that we introduced a new option for services called "execution order". This option, once set, gives the system the information about which service will be made first during a single reservation. So for each reservation, where multiple services has been booked, the system know exactly at what time the assistant X will be busy with the service Y and how long he will be busy to complete that service.
– Multiple assistants selection
If you enable this new option from "Settings > General" your customers can choose their favourite assistants for each of your services during the reservation process. This option works well if combined with assistant "skills" option.
– New front-end booking form
Now you can choose among three different sizes of the booking form and choose the one that best fits your reservations page.
As we changed the mark-up of the booking form you'll probably loose your CSS customisations. But you can easily apply them to the new layout.
– Booking rules for assistants and services
Now you can set one or multiple rules to define your weekly timetable for each of your services and your assistants and have a full control over your business availability model.
– Ignore first "0" from a mobile number
In some countries local numbers starts with a "0" but we saw that the SMS notification service stop working when users has that kind of number so we added this option that will help to solve this kind of problem.
What's next?
– We are working at Multiple Shops add-on that will allows to manage multiple locations as individual entities from the same website.
– A Google Calendar synchronisation for each assistants in order to display only the reservations where the assistant is involved.
– More booking form styling options to give you more control over the look and feel.
Important updating notes on Salon Booking 3.0
As the 3.0 is a major release we suggest you to make a back-up of your database and files before upgrade.
As we said before if you have made some CSS customisations to the front-end booking form you will probably loose them after the update but you'll be able to easily apply them the new one with same approach used in the past.
In case of any problems or issues with the plugin you can submit them to us using our contct form:
https://www.salonbookingsystem.com/contact-us/
We would be very happy if you would rate our plugin on wordpress.org
See you soon!