Taking high-quality photographs is key to pleasing your clients. However, to grow your photography business, you might consider other factors like customer service and client management.
Fortunately, you can implement an online booking system to improve your photography services. Plus, it's an easy way to develop meaningful relationships with your customers and manage your schedule. 
In this post, we'll take a closer look at five reasons photographers need online booking systems. Let's begin!
5 Reasons Why Photographers Need Online Booking Systems
Here are five ways photographers can benefit from an online booking system.
1. Manage a Flexible Schedule
Most quality online booking systems update in real-time. Therefore, if there's a cancellation or a change to your schedule you'll be notified of this instantly.
With the Salon Booking System plugin, updates are fast, so you'll never be left waiting around for clients that aren't going to show up: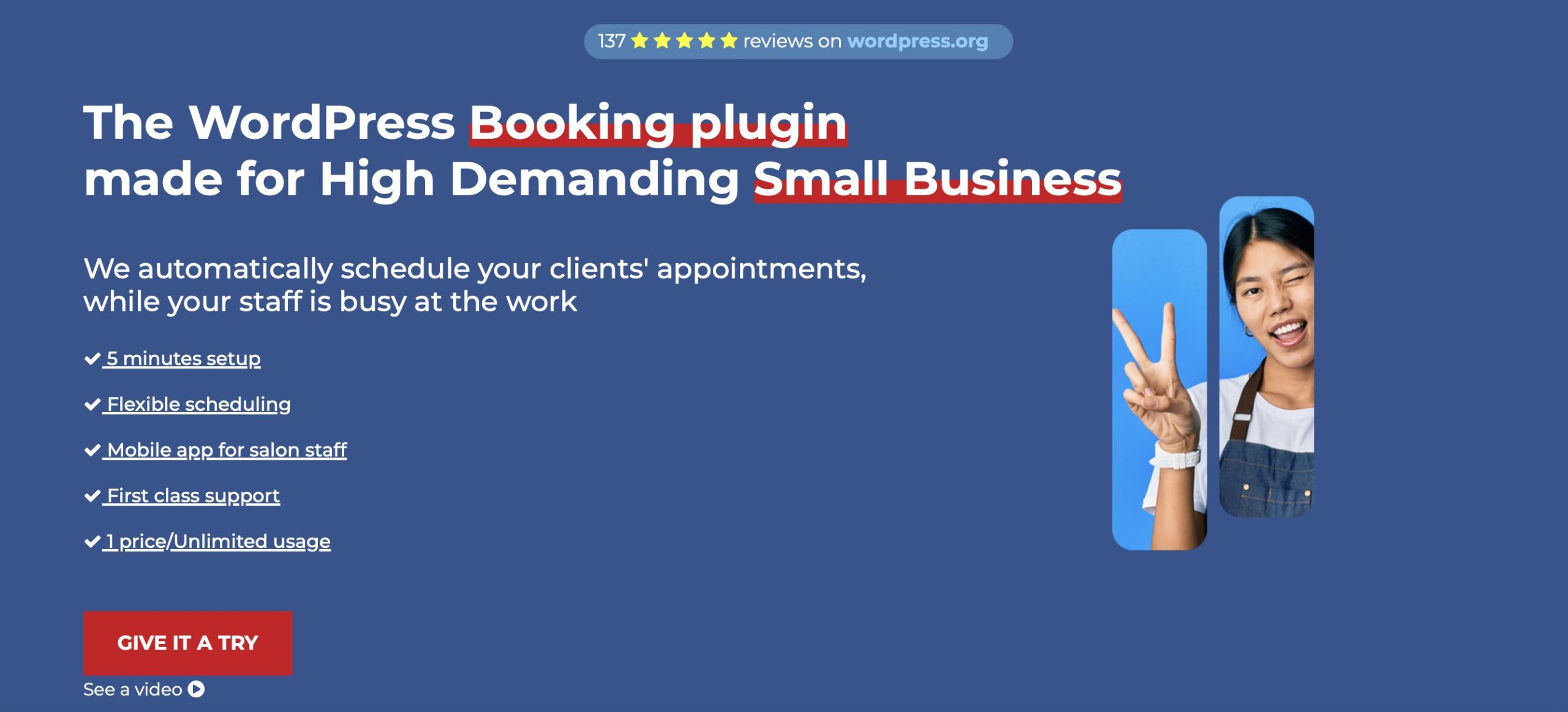 Furthermore, since you'll know about cancellations earlier, you can then offer last-minute appointments to fill available slots. This way, you'll avoid losing out on revenue, and you can fill your time productively.
Additionally, with Salon Booking System, you can even block out unavailable hours when you won't be working. You're able to configure this setting by going to Salon > Booking Rules > On-line booking available days: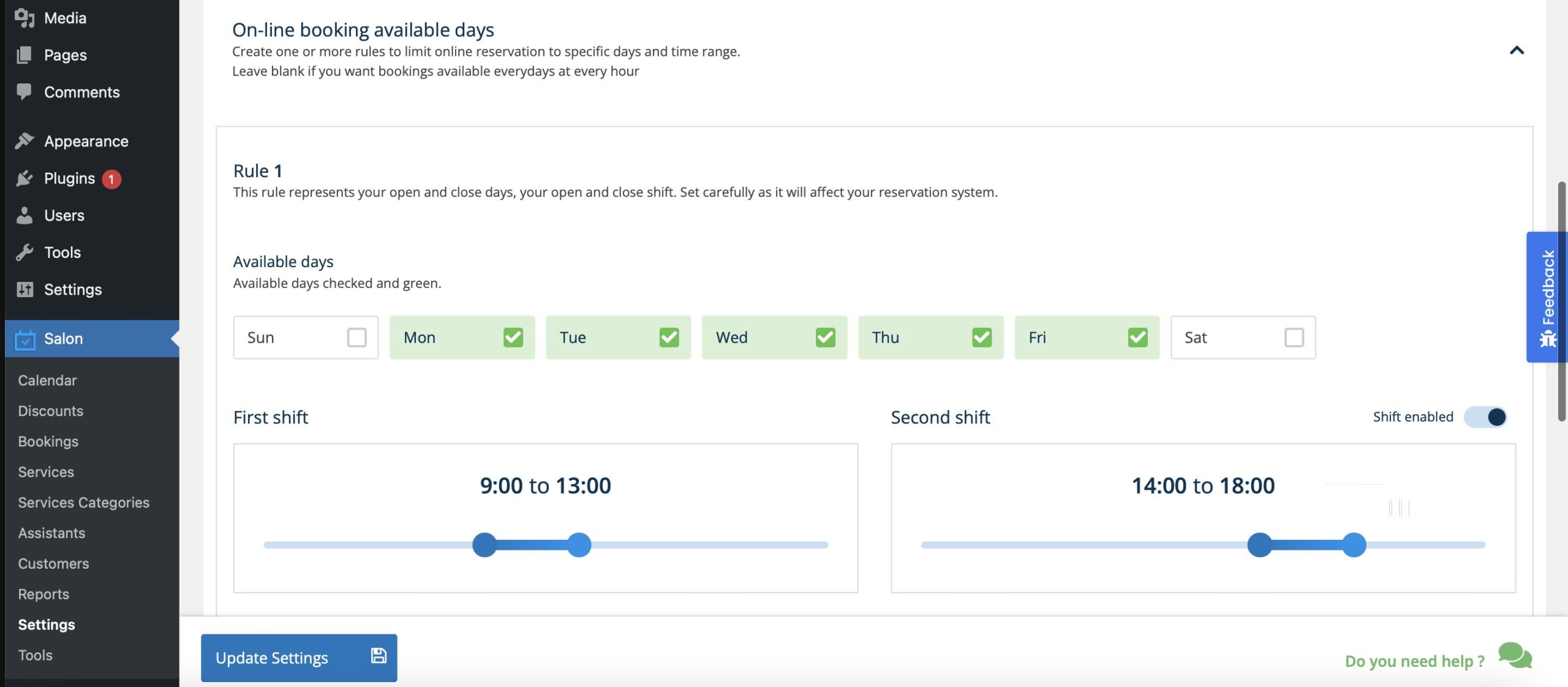 As a result, it's easy for customers to view your availability and schedule appointments more efficiently. Plus, you can also set scheduling rules for specific services or dates.
2. Accept Online Payments and Deposits
With an online booking system, customers can pay before they arrive. This can be more convenient for clients who are short on time.
However, while you can accept full payments online, you're also able to charge for deposits. This is a great way to secure payment even if the client fails to show up.
What's more, Salon Booking System accepts multiple payment methods like Stripe, PayPal, and Square. This way you can accommodate different customer payment preferences, appealing to a wider audience.
To set up your payment methods, head to Salon > Settings > Payments. Under Online payment, slide the toggle to enable this feature:

Then, navigate to Payment methods to set up individual payment gateways:

While it's important to attract new clients, you might also be interested in client retention strategies. One way of doing this is by creating coupons and sending special offers to long-standing customers. This rewards returning clients and may boost brand loyalty.
3. Collect Customer Feedback
Another great reason for photographers to use online booking systems is that they can enable you to send email and text reminders before appointments. This will likely help to reduce the number of no-shows.
However, you can also send follow-up messages to find out what customers think about your service. This is an easy way to identify areas to improve.
You can configure this setting with our plugin by going to Salon > Settings > Automatic follow-up: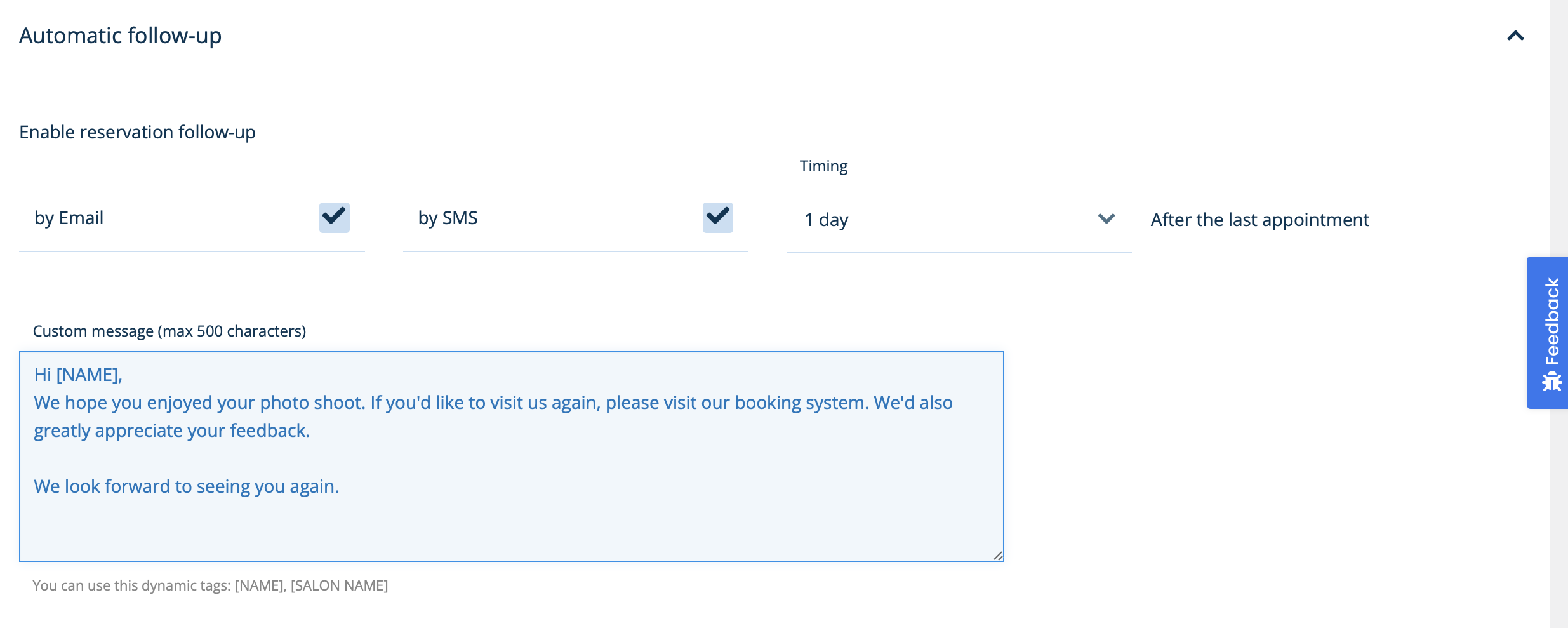 Better yet, providing feedback in this way is more accessible and convenient for your clients since it requires very little effort. Once you've collected your reviews, you can then feature the best ones on your website to build trust with new customers.
This is an excellent strategy, considering nearly 70 percent of online shoppers read between one and six reviews before making a purchasing decision. With our Salon Booking System plugin, you can even feature your reviews on Google My Business and Facebook.
4. Provide Unique Booking Forms
With the Salon Booking plugin, you can create unique forms to personalize your services. This can be more important for those in creative industries, since generic forms do little to inspire your visitors.
For example, by applying your brand colors to your forms, you can ensure consistency across all touchpoints. Meanwhile, you can choose your preferred form size to fit nicely into your website or your social media pages.
Moreover, once you've installed the plugin, you're able to create an unlimited amount of forms with custom prices and set duration periods. This can help clients better prepare for their appointments.
You can also add 'secondary' services to your forms to cross-sell or upsell your products. Simply head to Salon > Services > Add Service. Then, check the box that says Secondary: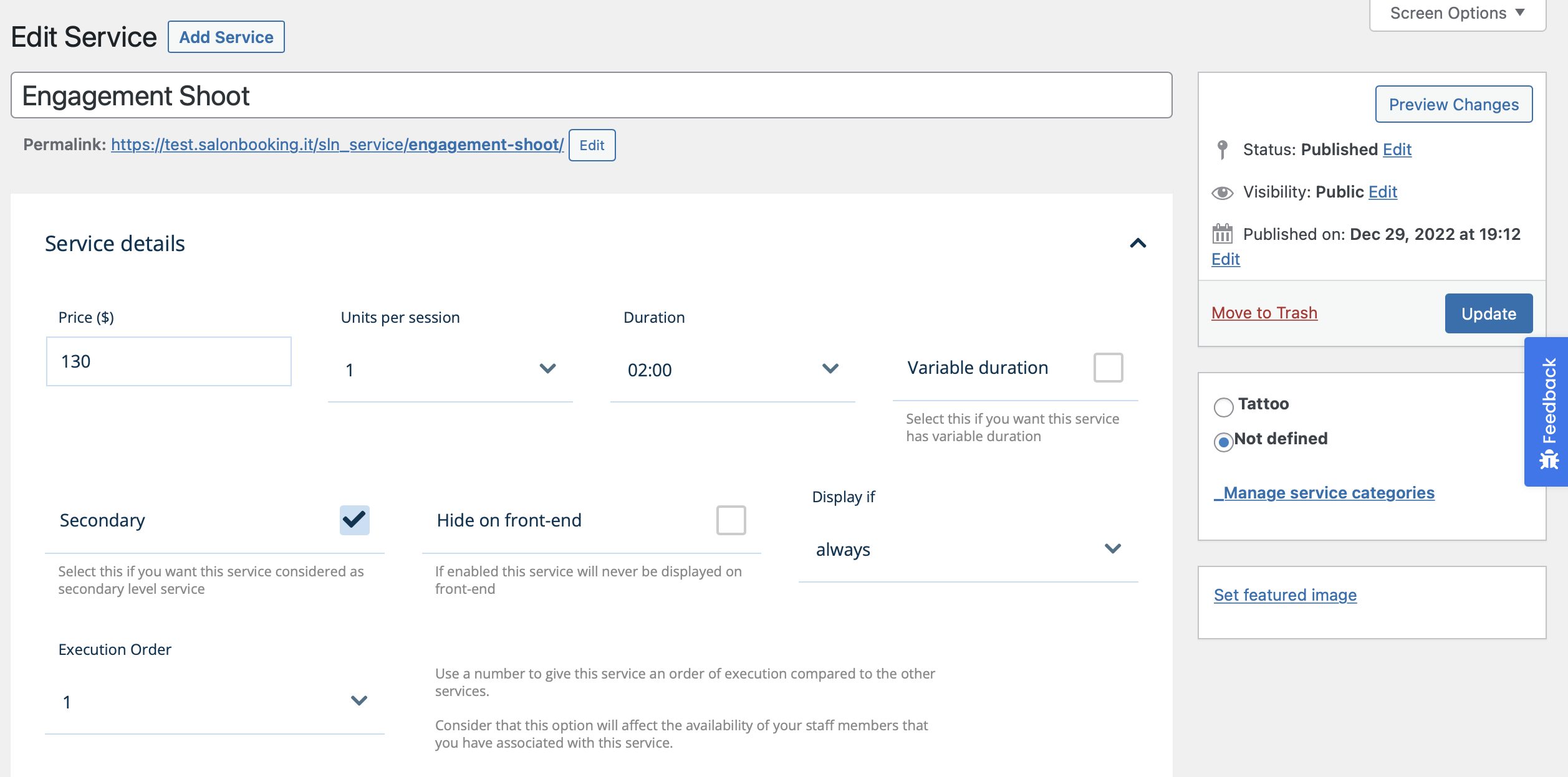 For instance, if you offer wedding shoots, you might provide an option for customers to include an engagement shoot or add a pre-wedding video call to discuss the details. If you work as part of a team, you're also able to add extra photographers to your online forms, specifying their experience and skill level.
5. Develop Meaningful Client Relationships
One of the best parts about implementing an online booking system is that your clients can book appointments when it suits them. By providing a convenient solution, you're able to nurture customer satisfaction.
For example, clients can log into the system to book new appointments. But, they can also view previous bookings to easily manage or re-book shoots.
With our Salon Booking plugin, you can track and store customer details to provide a more tailored service. By leaving specific client notes, you can enhance the experience and make it easy for repeat customers to re-book similar appointments.
You can do this by navigating to Salon > Customers > Customer's bookings: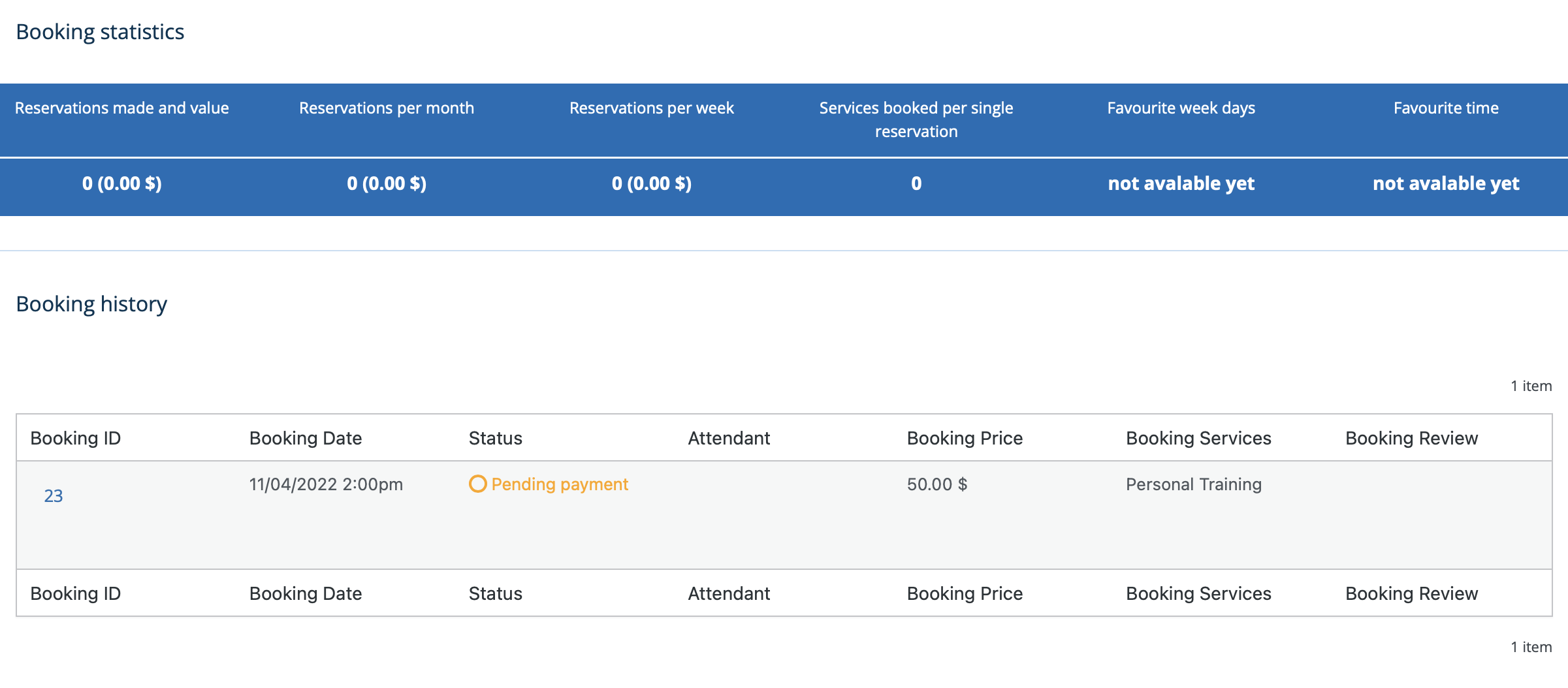 Then, once you have your customer's details on file, you're in a better position to communicate with them regularly. You can send appointment reminders and offer exclusive discounts. Better yet, you're able to add clients to your mailing list to keep them up-to-date with your business.
Conclusion
Taking beautiful photographs is crucial to the success of your business, but that's only half the battle. It's also important to attract new clients and nurture customer relationships. Fortunately, you can do this with an online booking system like the Salon Booking plugin. 
To recap, here are five ways photographers can benefit from online booking systems:
Manage a flexible schedule.

Accept online payments and deposits.

Collect customer feedback.

Provide unique booking forms.

Develop meaningful client relationships.
Do you have any questions about online booking systems? Ask us in the comments section below!