Running a tattoo business can be a lot of work, from finding reliable artists to generating profits. On top of that, you'll need to schedule appointments with clients and follow up with reminders so that they show up. 
The good news is that our Salon Booking System plugin makes it super easy to set up online appointments for your tattoo business. You can accept payments, organize your schedule, and send reminders to clients for their appointments. 
In this guide, we'll go over a few key reasons your tattoo business can benefit from implementing an online appointment system. Along the way, we'll also show you how to set this up with our Salon Booking System plugin. Let's get started!
4 Reasons Your Tattoo Business Needs an Online Appointment System
Your tattoo parlor can benefit from an online appointment system in many ways. Here are four key reasons to make the switch!
1. Save Time and Money on Manual Bookings
Traditionally, most businesses employ assistants to schedule appointments, follow up with clients, and handle cancellations. However, this can be time-consuming (and expensive) for your business. After all, the average tattoo parlor receptionist salary is around $61,000 per year in the United States. 
With Salon Booking System, you can automate the entire process: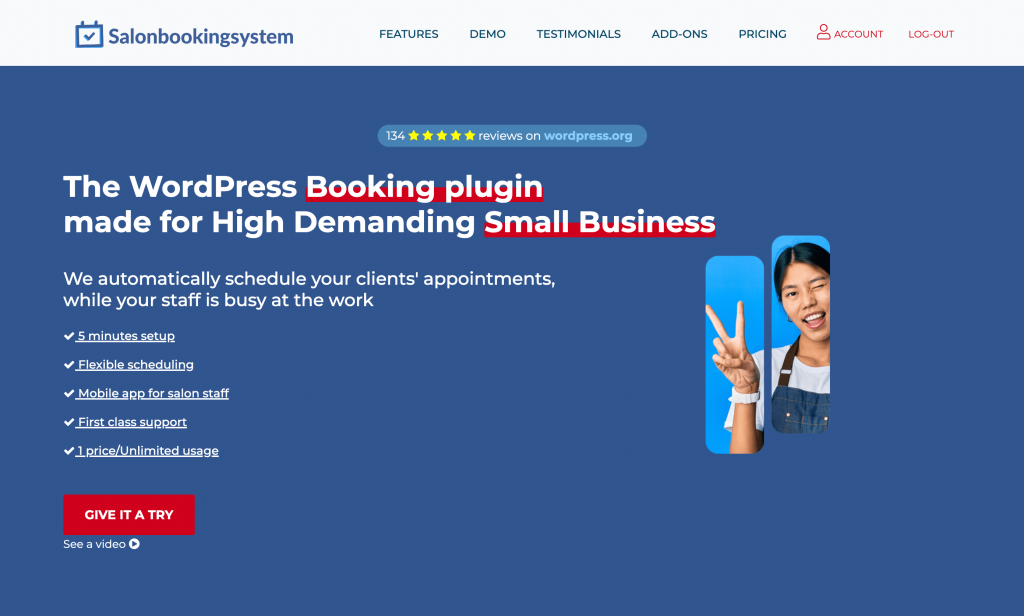 Clients will be able to book directly through your website, cancel their appointments if needed, and contact your tattoo parlor without picking up the phone. Plus, our tool starts at just €69 per year, making it an affordable investment!
2. Accept Online Payments
Unfortunately, some clients may not show up for their appointments. These last-minute cancellations can waste your tattoo business's time and money.
However, if you receive online payments (or even just deposits) before appointments, customers are more incentivized to attend them. Plus, you'll still make a bit of money if your clients don't show up, which is great for your bottom line.
Fortunately, accepting online payments with Salon Booking System is also very easy. Once you've installed and activated the plugin, you can add your tattoo parlor's services and available artists.
We also recommend creating booking rules to limit how many people can reserve a particular time slot and how long appointments will last. Then, a booking form will automatically be created for your business: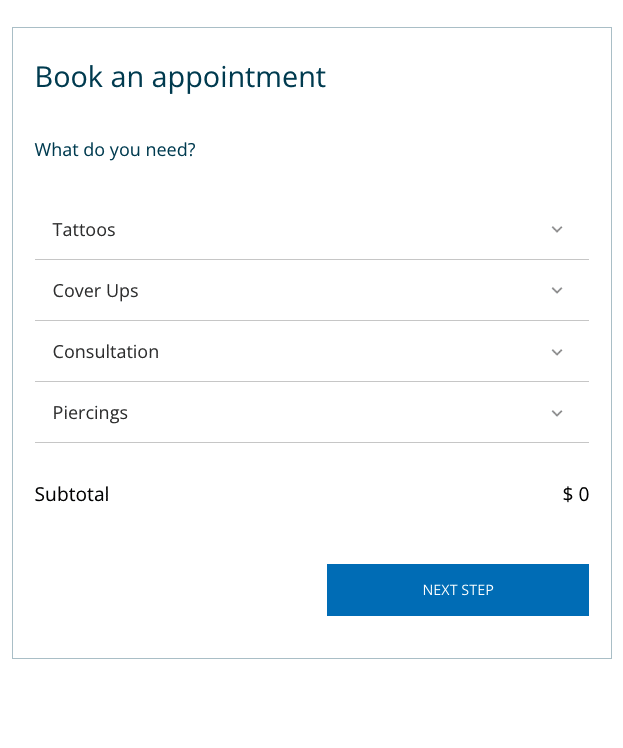 Next, head to Salon > Settings > Payments to set up payment options for your business. Make sure to enable the Online Payment ON switch: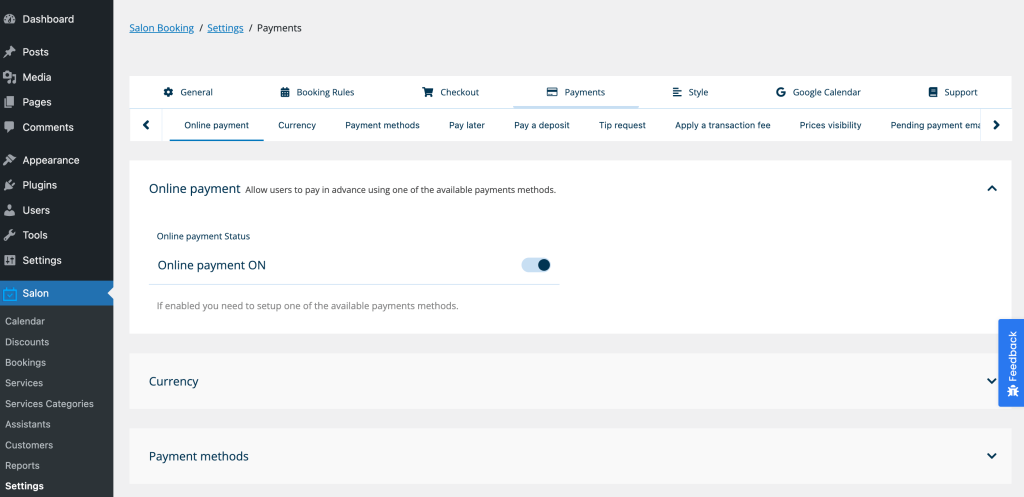 Under Payment methods, you can link your PayPal and Stripe accounts. Additionally, our third-party integrations let you set up payments through other providers. 
Instead of taking the total amount, you might allow clients to pay partial deposits on their appointments. You can even let them tip beforehand: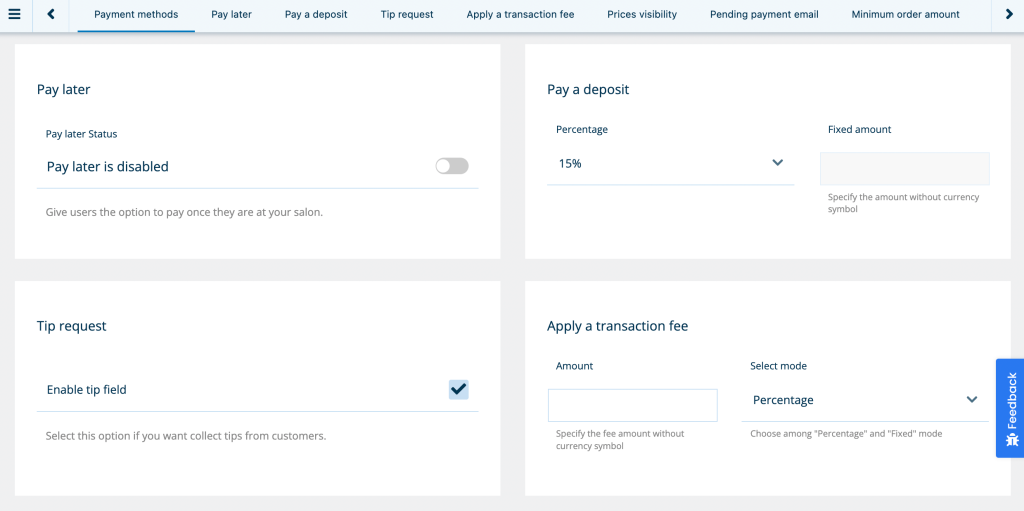 Just make sure to save your settings when you're done!
3. Organize Your Schedule
Using an online appointment system also enables your tattoo business to organize its schedule better. This benefit is essential if you have multiple artists working in your parlor. Otherwise, you can quickly get confused about your employees' availability when trying to set appointments. 
Once clients have made appointments through your booking form, they will appear in your WordPress dashboard. You can see them by heading to Salon > Calendar:

If you need to change the appointment, just click on it. Similarly, if you'd like to manually add an appointment (like if a customer emails you directly), simply select the day and fill in the appointment details. 
We also recommend integrating your Salon Booking System calendar with Google Calendar. That way, both your artists and your clients can see upcoming appointments on their personal calendars. Plus, you won't need to log in to WordPress to view the schedule.
4. Send Reminder Texts and Emails to Clients
Sending reminder texts or emails to your clients is essential. Customers may otherwise forget to show up for their appointments, wasting your tattoo business's time. Additionally, sending reminders is a common courtesy that shows your parlor cares about its clients. 
Without an online appointment system, you would have to contact your clients manually or through third-party software. With Salon Booking System, you can set up automatic reminders via text message or email. 
You can set up text message settings by heading to General > SMS Services. You'll be prompted to enter your service provider details and connect your account: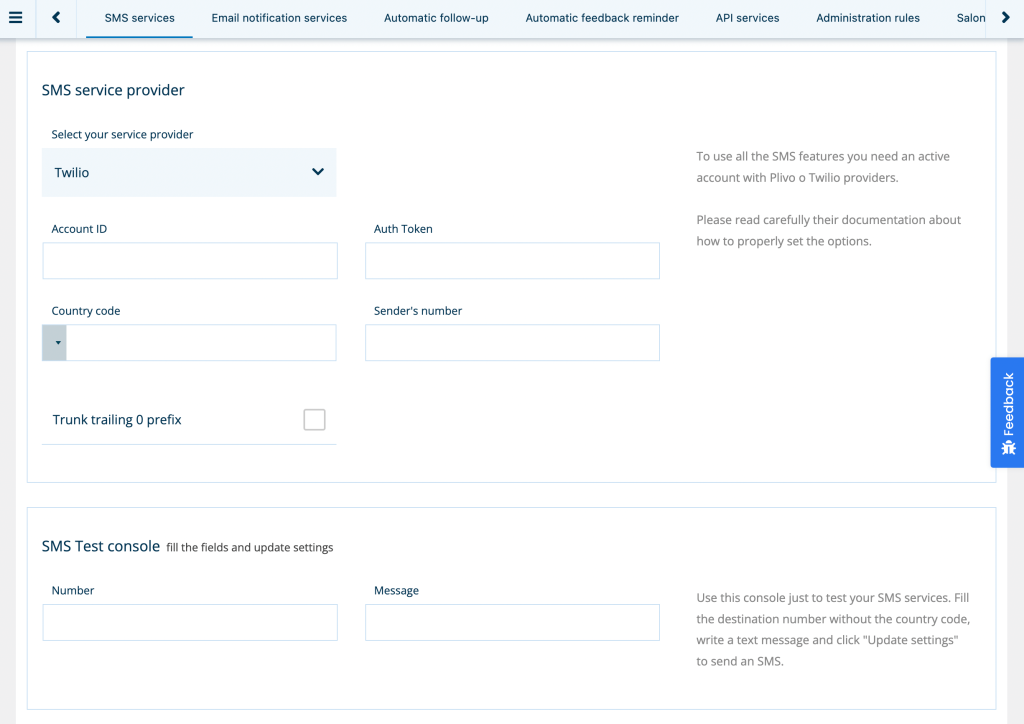 Now you can create a message template for new, upcoming, and modified appointments. The settings on this page also enable you to automate when the messages will be sent and whether you'll use Whatsapp: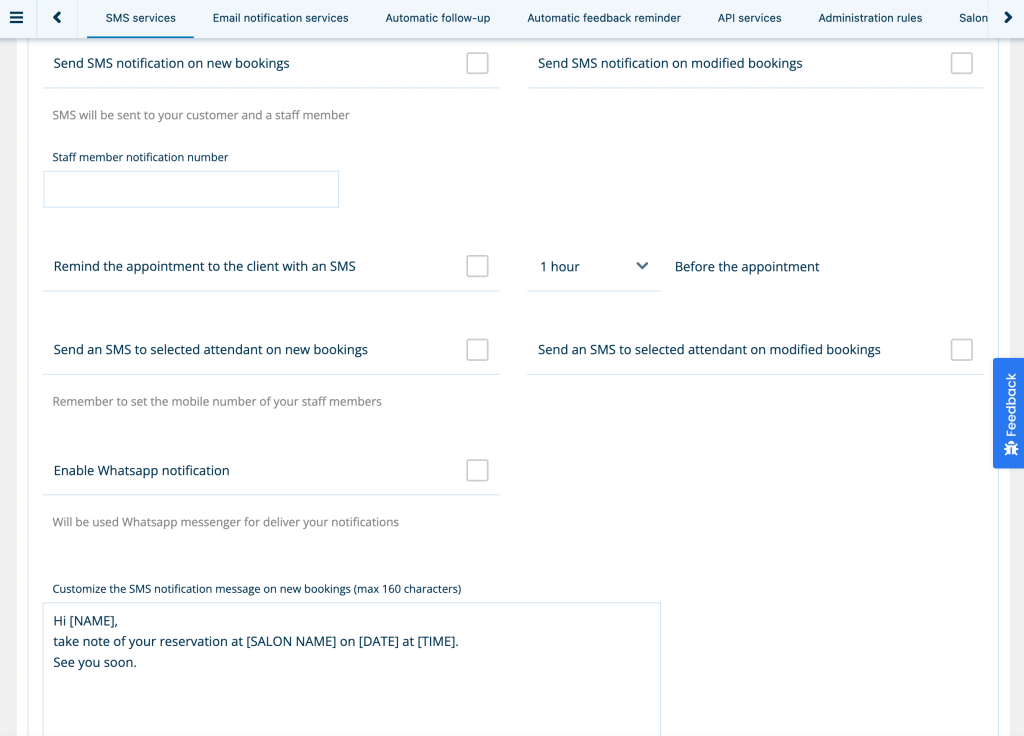 Alternatively, you might choose to send reminder emails to your clients. You can set them up under General > Email notification services. Again, you can pick when to automatically send the message and edit its template: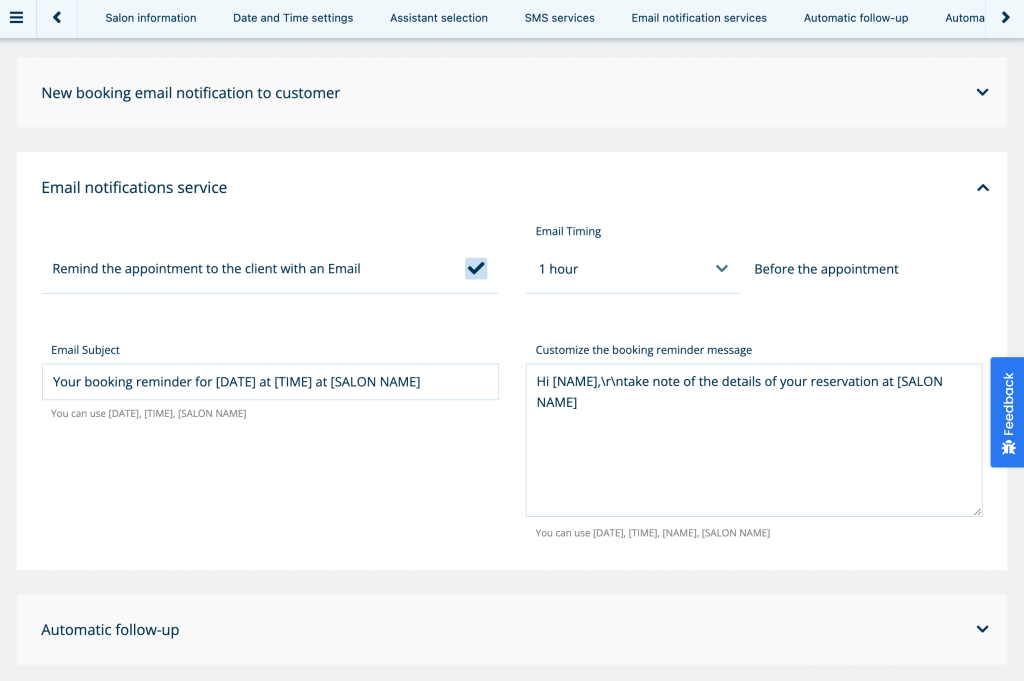 Furthermore, you can let customers cancel their appointments via email or through their account on your website.
To set this up, head to Booking Rules > User booking cancellation. Next, choose how soon before a tattoo appointment you will allow your clients to cancel: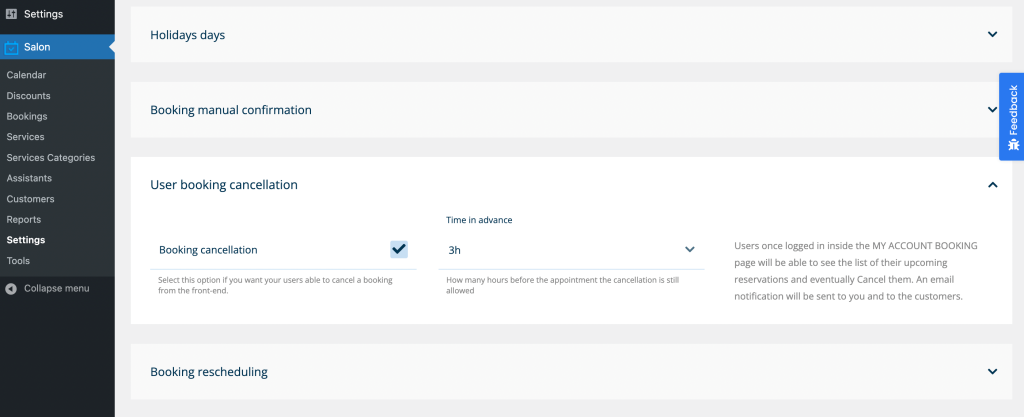 Now you'll receive a cancellation update whenever a customer cancels their appointment. It's that easy!
Conclusion
Running a successful tattoo parlor requires a lot of dedication, hard work, and providing excellent customer service to your clients. Handling appointments on top of all these tasks can be a huge hassle. That's why we recommend automating the process with our Salon Booking System plugin. 
To recap, here are four reasons your tattoo business can benefit from an online appointment system:
You can save time and money on manual bookings by automating the process.
Accepting online payments increases the likelihood of clients showing up for their appointments.
The built-in calendar can organize your employees' schedules and improve your parlor's efficiency.
You can easily send appointment reminder texts and emails to your customers.
Do you have any questions about setting up an online booking system for your tattoo business? Let us know in the comments section below!