Collecting the feedback of your salon customers when they leave your shop can be very crucial to better understand how they value your offer, or to simply identify some critical aspect of your business to be improved.
For this reason, we equipped our appointment booking plugin for salons with some tools that can easily help you to collect your customers' feedback.
Salon Booking System allows your customers to send a review to your salon using their personal account page on your website.
You can send an invitation to your salon customers to submit a review by enabling a dedicated option.
Go to "settings > general > automatic feedback reminder" option.

You can choose if to use an email or an SMS or both, that will be automatically sent after a reservation.
You can also customise the subject and the body of this message.
By default, your customers can submit their review through their personal account page, usually called "Booking My Account", by accessing the "Reservations history" section and clicking on "Leave a review".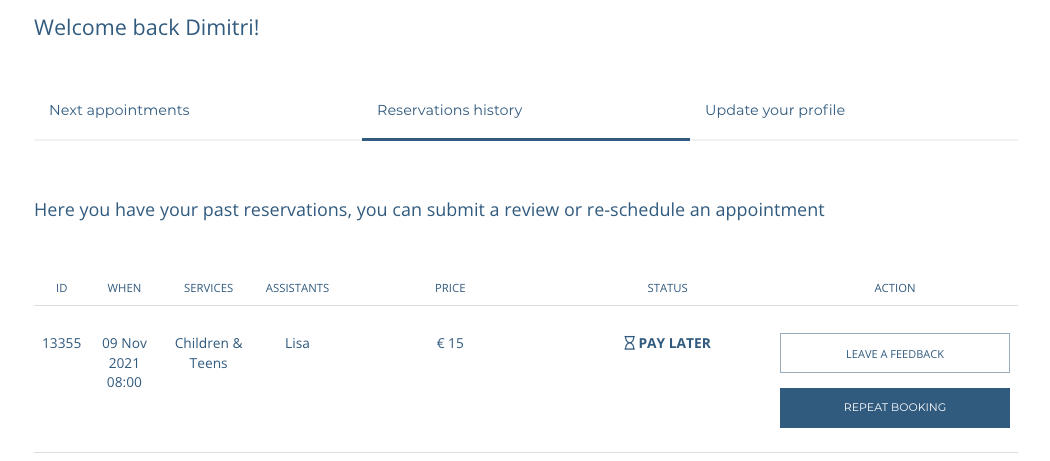 Every time a new review has been submitted, an email notification is sent to the salon administrator.
Alternatively, you could use a different platform to collect customers reviews, like Google My Business or Facebook business pages.
In these cases, you only need to enter the URL of the submission review provided by the platform of your choice inside the "Feedback submission URL" field.
You can also display the review sent by your customer using Salon Booking System using this shortcode:
[ sln_recent_comments ]
This shortcode accepts a parameter like this:
rate="3"
Where you can specify the rating points of the reservations to be displayed.
See it in action on our demo →
If you have any kind of suggestion to improve this feature, please share your thoughts with us, and we'll be happy to define with you new possible improvements of the "Customers feedback collection".